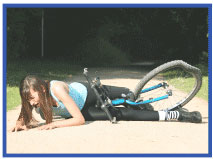 Recently we did a little survey of agents who had requested a Bicycle quote but didn't get a policy. While speed and responsiveness got high marks the most common reason checked for not getting the policy was premium. We were a little surprised until we read the follow-up responses and one agent said it was "higher premium than scheduled on homeowners policy". Well of course it is!

A homeowner policy will just replace the bike, no coverage for theft when away from home (without an endorsement), no coverage for a hit and run damage, no coverage for racing, no coverage if hit by another bicyclist. A Bicycle Policy has all that PLUS:
Rental reimbursement

Competitive fee reimbursement

Spare parts coverage

Cyclist apparel

Medical payments

Roadside Assistance

Electric Assist bicycles

Deductibles as low as $100

Worldwide coverage available
Lastly, I ask you to show me a homeowners policy that offers Vehicle Contact Protection (similar to UM/UIM) for a bicycle!

We made a little comparison chart for you as well as the Sell Sheet offered previously. The Bicycle program is available on Big "I" Markets in all states except AK & HI.
_______________________________________
--RESHEDULED--
Commercial Residential Insurance Webinar

Join us to learn about what we can do for you.

Date:Thu, April 2, 2015
Time:01:30 PM EDT
Duration:1 hour
Hosts: Rick Cote, Alternative Distribution Manager, Kathy Stevens, Commercial Underwriting

In this informative webinar, you'll discover:
The many classes of commercial habitational we provide solutions for

How tax credit loss insurance can make affordable housing clients only want you

How to save your client $1,000's, while getting a discount off their premiums

The secret to tenant retention after a loss: This powerful tool blocks the competition

Interior damage from wind driven rain coverage

How to submit business easily

On the spot risk review appointments - have your questions ready and gain immediate access with no volume commitment!
There is NEVER the need for premium financing (direct bill, flexible options)

$20 Amazon gift card just for giving us a try!

Here are the details:
Simply send us a risk to quote within 30 days after the webinar (must be effective within 60 days after the webinar)

Underwriting must release a bindable quote

Collect your gift card!
REGISTER HERE!
Competing with Direct Sales & Captive Agency Insurers in Personal (and Commercial) Lines

March 25, 2015; 1:00 to 4:00 p.m. Eastern Time
$79 - Click here to register.

Are you tired of all the insurance commercials that shout "Price! Price! Price!"? Are you sick of the silly claim that someone's exposures to loss can be analyzed and priced in 15 minutes or even 7 ½ minutes? How about losing business to someone selling an inferior product yet claiming, "SAME COVERAGE, Better Value"? If so, then sign up for the new 3-hour webinar called "Competing with Direct Sales and Captive Agency Insurers in Personal (and Commercial) Lines." While the focus is primarily on personal lines where direct sales and captive agency companies dominate the marketplace, the first hour addresses both P&C lines and many of the principles discussed throughout the webinar are applicable to both. VU webinar questions can be sent to bestpractices@iiaba.net.
Remember that you can view the following webinars 24/7 by checking out the BIM Webinar Library. To do that log onto Big "I" Markets and click on "Publications".
Personal Liability Trends - Fireman's Fund
TravPay
Commercial Lessor's Risk
Affluent Homeowners
Travelers Select Products (series)
Travel Insurance
Community Banks
XS Flood
Real Estate E&O
RLI Personal Umbrella
Affluent Homeowner
"Oh, by the way...Flood Sale"
Habitational
Non-standard Homeowner
Student Housing
+++++
BIM WEBSITE TRAINING WEBINAR
________________________________________
TIE BREAKER
Leonard Nemoy (aka Mr. Spock) passed away this past weekend. How many of the Star Trek movies did he produce or direct? - THREE (Director - III & IV / Producer - VI)
________________________________________
Here are the top three items that got BIM agents clicking from our last edition... see what you missed!
________________________________________
Big "I" Markets Sale of the Week
Congrats to our agent in New Jersey on a
valuable articles
sale of $
2,271
in premium!
---
Follow Us:







TFT is authored by Michael Welch
Big "I" Markets Service Coordinator